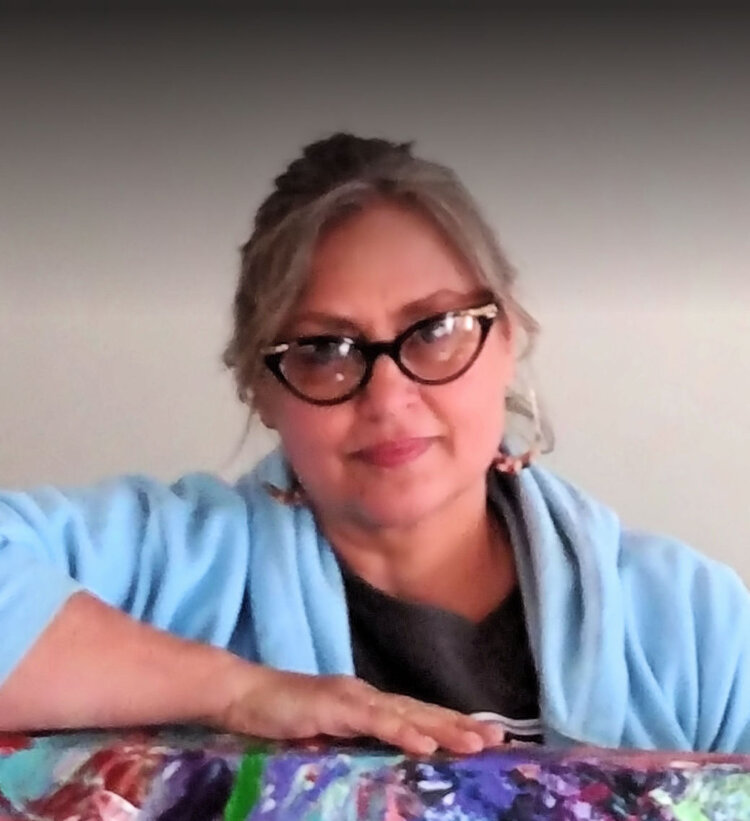 ARTIST
Sylvia Rabeler Skok is an abstract painter and color theorist whose interest is in bridging the gap between formalisms and the experiential aspects of art. Philosophically, she is a second order cybernetian and something of a radical constructivist. That is, she situates her work within the notion that the act of observing cannot be separated from the observed, and what is observed is a coherent constructed experiential reality, limited by knowledge and perceptions.
The roots of her work can be found in Kandinsky's "Concerning the Spiritual in Art and Painting in Particular." His formalist views on art elements and the relations between them, especially color, are the inspiration for Skok's Chroma-generative Model.
Sylvia Skok grew up in New York's Catskill Mountains. She attended Pratt Institute in Brooklyn for two years and then began working in an administrative capacity in the technology sector. It was this early exposure to computers influenced her interest in formalist abstract art.  During this time Skok was mentored by Merton D. Simpson, a noted abstract expressionist painter, as well as a member of the jazz band, The Spiral Group, and an African art dealer in New York City.
Upon her returned to academic study, Skok opted for an unconventional path, art wise. Rather than attending a traditional school of arts, she focused on the biophysical and mental mechanisms of perception, cognitive interpretation of symbols and abstract modeling. She received a BA in Biology and Honors Psychology at SUNY, Potsdam College. Her honors thesis reported on original experimental research on Stroop color-word interference. Skok followed up by studying formal modeling techniques and systems theory with an MS and PhD in Systems Science at Binghamton University, SUNY. Her Master's project modeled the perceptual color constancy phenomenon. Her dissertation examined systems and cybernetics in art generally and the Chroma-generative model, demonstrating color as language, specifically.
ASSOCIATIONS
New York Artist's Equity Association, rose member
Broome County Arts Association, member
Bovina NY Historical Society, member
---
Copyright 2022. Sylvia Rabeler Skok. All Rights Reserved.